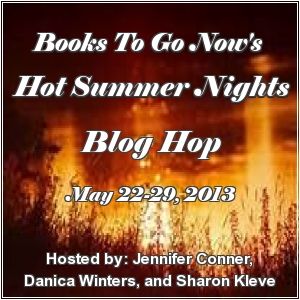 Welcome to the Books To Go Now's Hot Summer Nights Blog Hop!
We are offering two Grand Prizes!! In order for readers to take part, they must leave their comment and email address.  Two winners will be chosen at random and notified no later than May 31, 2013.
1st Grand Prize: (1) Kindle Fire!
2nd Grand Prize: (1) $100 Amazon Gift Card
I'm offering to give my  entire Mambo Mediterranean Series to one lucky commenter.
The Winner will be announced on May 30, 2013 – check back here to claim your prize, or check my FB or Twitter posts.
Anyone who leaves a comment with their email address is entered in not only this blog hop, but my KINDLE FOR FIREWORKS CONTEST. That's two chances to win TWO KINDLE FIRES.
Without further ado, here is my post for the Hot Summer's Night Blog Hop:
Excerpt from Carnal in Cannes:
Martine took two steps forward, set her palms on his chest, and their gazes fastened. "Is it now that we play your Blind Man's game?"
"Have you been thinking about it all evening?" Harry asked.
"C'est intriguing non? But where do we find the blind man? And who is nekkid?"
Harry chuckled, retrieved a tie from the closet, and wrapped the red strip of silk around her palm.
"Tie it around my eyes," he ordered.
When Martine had him good and truly trussed she asked, "What now?"
He swung into a horizontal position on the mattress, rested his head in his hands, and said, "Rule number one. You get to do anything you want. Have anything you want. Stop anytime you want. It's all about you. The goal of the game is to identify whatever you're holding or touching or kissing."
"And rule number two?"
"I get a turn after you."
She fell silent studying the sculpted lines of his male beauty.
"We don't have to do this if you don't want to, Martine," Harry said, and he turned his head on the pillow, easily pinpointing her direction despite the blindfold. "Tell me what you want."
Working up the courage to answer, she inhaled the aromas of the candles, a cleansing ginseng fragrance, and on her exhale she skittered closer and brushed her lips on the cusp of his shoulder. Admiring his bulging muscles, the sharp indentation midarm to his elbow, she ran her fingers down his warm flesh. The nuns avoided all mention of body parts and workings, and she'd reached adulthood aware mainly of how coupling occurred.
"What is this muscle, Harry?" She squeezed the thickest part of his arm.
For a few seconds he didn't answer, and her stomach went all jittery.
"That's the deltoid. Feels good when you do that."
"You have beautiful shoulders, strong, and I can see where each muscle begins and ends." She bent to kiss a taut spot near the crook of his neck. "And this?" Her exhale sifted a lock of warm brown hair curling around a vein that went all the way to his ear. Unable to resist she traced the throbbing vessel, nuzzling the damp flesh cording his throat.
"Trapezius," he replied, his voice low and husky.
"I know these," she said, placing her palms flat on his chest. "Pectorals. Men are so different here from women."
"Praise the Lord almighty," Harry muttered.
"So strong," she murmured, fingering a ridged groove of flesh extending from the middle of his torso. "This is the six-pack, non? Three here and three on the other side. This one lower than its mate."
On impulse she leaned over and used the tip of her tongue to trace each grove. Harry intoxicated her senses. She grew drunk on his now familiar Harry fragrance—soap, the CK aftershave she'd discovered in the bathroom, and a spiciness all his own. Her ears filled with his each rasped inhale, each muffled grunt, and the occasional hiss when she hit a sensitive spot.
Her tongue absorbed the slight musk and salt in the taste of him, and she closed her eyes to savor his flavor and smell, hoping she'd always be able to conjure the aroma after their year ended. She laid her cheek to his belly and ran a finger around the rim of his navel. A film of sweat coated his skin there, making the ridges outlining his six-pack glisten.
Hope you enjoyed!
Here's the linky list to go onto the next blog in the hop!
Powered by Linky Tools
Click here to enter your link and view this Linky Tools list…
Cheers,
Jianne